Burgring Tram Stop at Ringstrasse
Burgring
Burgring is a street located in Vienna Inner City (Innere Stadt) close to Hofburg (the Imperial Palace), Burggarten, and Maria-Theresien-Platz. The tram stop named Burgring is situated directly on Burgring near the entrance to Burggarten. Burgring is a section of the Ringstrasse.
Here you can see information about hotels near Burgring.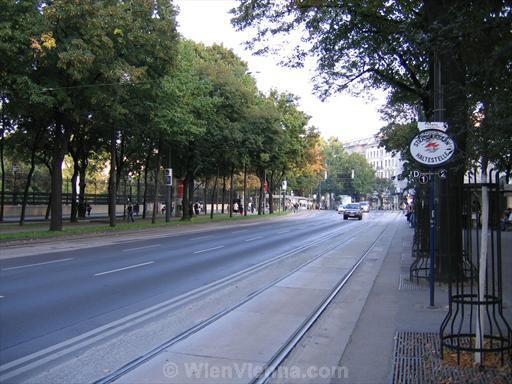 Ringstrasse in Vienna
Ringstrasse (Ring Street) is a well known wide boulevard running in a circle around Vienna Inner City. It passes by many of Vienna's most popular tourist attractions and important buildings, including the city hall (Rathaus), the Austrian Parliament, Burgtheater, Volksgarten, Hofburg, the twin museums (Museum of Natural History and Museum of Arts History), Burggarten, and Vienna State Opera. There is frequent tram service all along the Ringstrasse.