Vienna St. Francis of Assisi Church Picture
Saint Francis of Assisi Church in Vienna
Like many other cities, Vienna also has a church dedicated to St. Francis of Assisi, who is called Heiliger Franz von Assisi in the German language. The church is one of the most beautiful churches in Vienna and from a distance it looks more like a fairytale castle. Alternative name for the church is Kaiser-Jubiläums-Kirche (Emperor's Anniversary Church), as it was built on the occasion of Emperor Franz Josef I.'s 50th anniversary on the Austro-Hungarian throne (the anniversary was in 1898, the church was built between the years 1898 and 1910). The architect was Victor Luntz.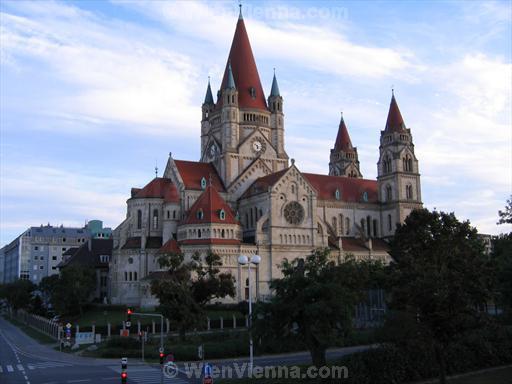 Mexikoplatz and Reichsbrücke
Vienna St. Francis of Assisi Church is located in the south-eastern part of Mexikoplatz (Mexico Square – the church also used to be called Mexikokirche in the past), next to the beginning of the Reichsbrücke (Empire Bridge), which connects Vienna city centre with Donaustadt and UNO-City. This picture of Francis of Assisi Church was taken from the pedestrian pathway on the Reichsbrücke very close to the bridge's start. It is definitely worth it to walk on the Reichsbrücke from one side to another to see St. Francis of Assisi Church from different angles (especially with the Danube river and the boats in front of the church).
Getting to St. Francis of Assisi Church in Vienna
The easiest way how to get to St. Francis of Assisi Church from most parts of Vienna is by metro. The metro station closest to St. Francis of Assisi Church is Vorgartenstrasse on metro line U1, situated in Lassallestrasse about 100 metres from Mexikoplatz. Alternatively, you can get off the metro at the next station, Donauinsel (Danube Island), which is located in the middle of Reichsbrücke. Vorgartenstrasse and Donauinsel are 1 or 2 metro stops from Praterstern Station, respectively.