Vienna Burggarten, Palmenhaus, and Hofburg
Burggarten in Vienna
Burggarten is the park attached to Hofburg (Vienna Imperial Palace). It is a popular place to relax in Vienna Inner City. Besides the grass, flowers, trees, and fountains, a big attraction of Burggarten is the statue of Wolfgang Amadeus Mozart, which is situated close to the entrance (from the Ringstrasse side).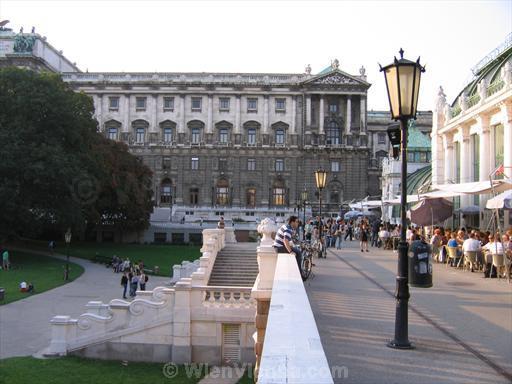 Palmenhaus
Palmenhaus means Palm House in German. It is a greenhouse that houses exotic plants and flowers – some of them are used as decoration on various official events. Palmenhaus is also a popular restaurant and cafe, with truly amazing location and atmosphere. The building of Palmenhaus is very interesting itself. It was first built in 1822, using a part of former city walls. That old greenhouse was replaced by a Jugendstil-style structure in 1901 (architect Friedrich Ohman). In late 1980's, Palmenhaus was closed to the public and the building got almost abandoned. It was opened again after a major renovation in 1998.
Hofburg (Vienna Imperial Palace)
Hofburg, the Imperial Palace, is the true centre of Vienna and the whole Austria. In the past, it was the government centre for the whole Austro-Hungarian Monarchy and the seat of Austrian Emperors. Today Hofburg is the office of the Austrian President. Some parts of the Hofburg Palace (such as the Spanish Riding School) are open to the public and are among the most popular tourist attractions in Vienna.