Stephansplatz U-Bahn Entrance from Stephansdom Tower
View from the South Tower of Stephansdom
St. Stephen's Cathedral in Vienna (or Stephansdom) is the 8th tallest church in the world – thanks to its South Tower, which is 136.7 metres high. The tower is accessible to visitors. However, there is no elevator and you need to climb 343 stairs by yourself. Though the ascend is physically challenging, the reward is worth it – you can see various parts of Vienna from the tower and recognize the familiar buildings – like Rathaus, Hofburg, Prater Wheel, or UNO City.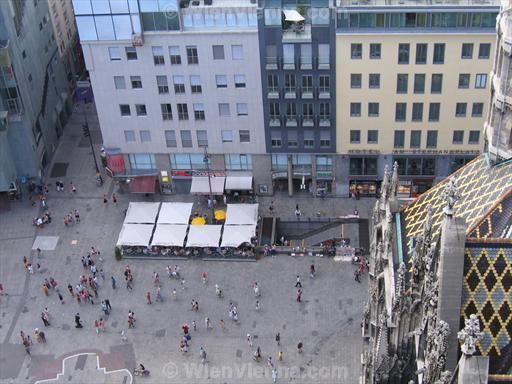 Stephansplatz in Vienna
When you look right down, you will see the roof of the cathedral and a busy square: Stephansplatz. This square is the central point of Vienna, an important public transport hub, and also a popular tourist hub. There are street entertainers, salesmen of concert tickets, souvenir shops, and many hotels in the streets around Stephansplatz. Besides convenient location, Stephansplatz has one more advantage: as long as you can see the tall Stephansdom Tower between the houses, you never get lost.
Stephansplatz U-Bahn Station
The metro (U-Bahn) station is located right under the cathedral (there is even an underground chapel to be seen from the metro station entrance hall). Stephansplatz Station is the intersection of U-Bahn lines U1 and U3 and one of the busiest metro stations in Vienna.