Kunsthistorisches Museum, View from Burgring
Kunsthistorisches Museum Wien
Kunsthistorisches Museum (Museum of Art History) is one of the twin museums at Maria-Theresien-Platz, near Vienna Imperial Palace Hofburg. As its name suggests, it is dedicated to various kinds of art, while the other twin, Naturhistorisches Museum, focuses on natural sciences. The two museums are among the most typical and best known buildings in the historical centre of Vienna (Innere Stadt).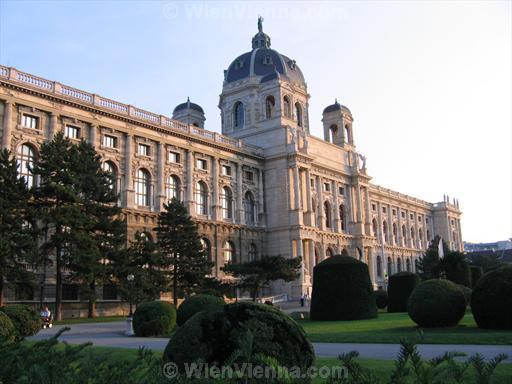 Burgring: Ringstrasse near Hofburg
This picture shows Kunsthistorisches Museum illuminated by light short before sunset in summer. It was taken from Burgring, a section of the well-known Ringstrasse at the place where Ringstrasse passes the Imperial Palace, Hofburg (therefore Burgring).
Hotels near Kunsthistoriches Museum Wien
The area around Hofburg, Maria-Theresien-Platz, and the museums is a popular hotel location. There are many hotels in nearby streets, ranging mostly from 3 to 5 stars. Here you can see more details and tips about hotels near Kunsthistorisches Museum Wien.
Getting to Kunsthistorisches Museum
Kunsthistorisches Museum is easy to reach by public transport from any part of Vienna. There are two U-Bahn (metro) stations in close proximity to the museum: Museumsquartier Station on line U2, and Volkstheater Station, the interchange of lines U2 and U3. There is also very frequent tram service on Burgring.