Heiligenstadt Station on Metro Line U4 in Vienna
U-Bahn line U4 terminal station Heiligenstadt
Heiligenstadt means "town of the saints" in German. It is a part of Vienna's 19th district, located in the north-west of the city. Heiligenstadt Station was first opened in 1898 as part of the old Stadtbahn (city railway), namely the important Wiental-Donaukanal Line. This line was later tranformed to modern metro and today Heiligenstadt Station is the terminal station of metro line U4.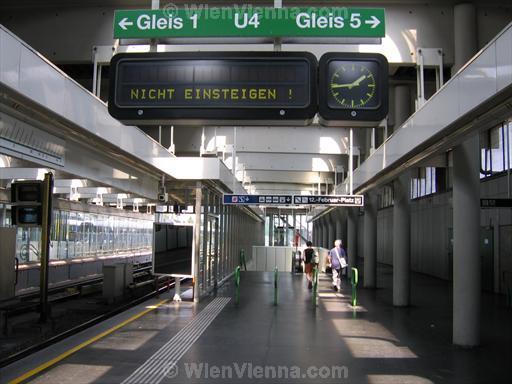 Vienna U-Bahn line U4
The green line of Viennese metro, line U4, runs in the Wiental (Wien River Valley) in the south-west of Vienna, where it stops near the well-known Schönbrunn Palace, and then after passing the Inner City it goes along the Donaukanal to the north-west. There U4 terminates at Heiligenstadt Station, which is one of the most important public transport hubs in Vienna.
S-Bahn and regional buses at Heiligenstadt Station
Besides the metro, Heiligenstadt Station has access to the S-Bahn (regional train) network – S-Bahn lines S40 and S45 cross here. Regional buses connect Heiligenstadt Station with town located mainly to the north-west of Vienna.