Burggarten Sign, Ringstrasse, Vienna
Burggarten Park in Vienna Inner City
Burggarten is a large park in the very centre of Vienna.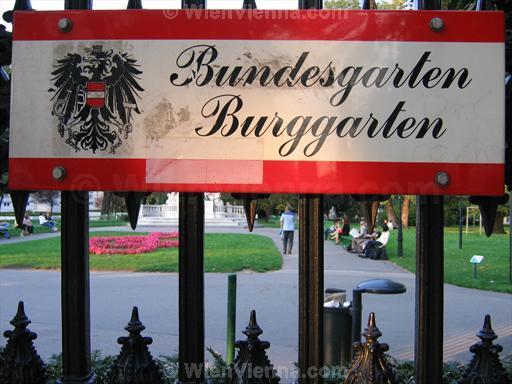 Burggarten is situated in the first district (Innere Stadt – Inner City), next to several very important buildings and landmarks, including the Imperial Palace, Palmenhaus, Albertina Gallery, or Vienna State Opera. Besides trees and a lake, there are several statues inside the Burggarten – the most popular ones are the statue of Mozart (there's always a queue of tourists eager to take a picture with Mozart) or Emperor Franz Joseph I.
Bundesgarten Burggarten sign
On one side, Burggarten borders at Burgring Street – the two are separated by a fence, which you can see on this picture. The official name of the park is Bundesgarten Burggarten. When something is Bundes- in Austria, it usually means that it is owned or managed by federal (Austria-wide) public authority – in this case Bundesgärten (Federal Gardens).
Ringstrasse and Burgring
Don't get confused – Ringstrasse and Burgring are just different names for the same street. In fact, Burgring is one of the sections of Ringstrasse, which is a very well known street that runs in circle around the historical centre of Vienna.
Burgring and Burggarten names explained
Burgring, as well as Burggarten, derives its name from die Burg, which means the castle or the court in German – and in Vienna it means the Imperial Palace Hofburg, the seat of Austro-Hungarian Emperors in the past and the office of the Austrian President in these days. Here you can see another picture of Burgring, which is a beautiful wide boulevard with many trees and wide pedestrian pathways – something very typical for Vienna city centre.