Vienna Belvedere Palace Gardens
Belvedere Palace in Vienna: basic info
Belvedere Palace, one of the best known landmarks of Vienna, was built at the beginning of 18th century, first as a suburban entertainment villa of Prince Eugene of Savoy. The main architect was Johann Lukas von Hildebrandt, one of the top architects of the Austrian Baroque. The sculptures in the gardens were made by Giovanni Stanetti, who was invited to Vienna by Prince Eugene of Savoy from Venice.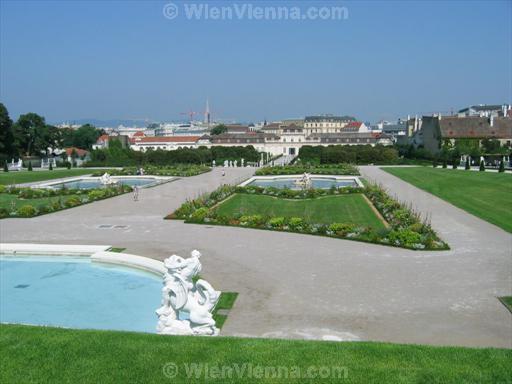 Belvedere Gardens and Palace Today
Today Belvedere Gardens (Belvedere-Garten in German) are open to the public and located in the 3rd Viennese district (Landstrasse). The area also includes the Botanical Gardens of Vienna University (Botanischer Garten der Universität) and the Alpine Garden (Alpen-Garten).
You can also visit a museum inside the Belvedere Palace (Österreichische Galerie Belvedere).
Getting to Belvedere Gardens in Vienna
Belvedere Gardens are quite large and well accessible from multiple sides. The north side of Belvedere Gardens is not far (within walking distance) from Karlsplatz (U-Bahn station) and Schwarzenbergplatz. Good starting points for exploring the Belvedere are also the train stations Wien Rennweg and Wien Südbahnhof (both with excellent S-Bahn coverage).