Belvedere Gardens: View towards Innere Stadt
Vienna Belvedere Gardens
Belvedere Gardens, which surround Belvedere Palace, are among the largest and most beautiful parks in Vienna city centre. They are located south of Innere Stadt (Inner City – first district) in the district of Wieden. Belvedere Gardens are full of beautifully arranged flowers, statues, and fountains – they are actually quite similar to the central section of the better known Schönbrunn Gardens.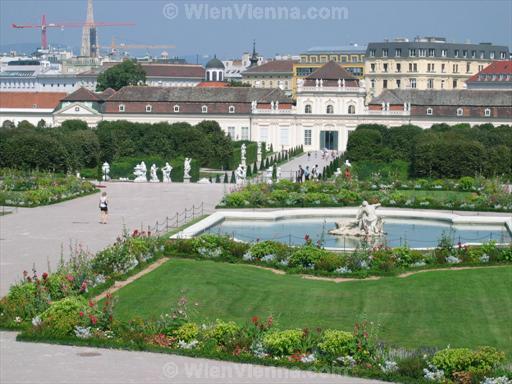 Hotels near Belvedere Gardens in Vienna
The concentration of hotels near Belvedere Gardens is smaller than in Innere Stadt, but there are still several good accommodation options, particularly in the streets to the north (around Karlsplatz and Schwarzenbergplatz) and west (between Prinz-Eugen-Strasse and Favoritenstrasse).
Getting from Belvedere Gardens to Innere Stadt
You can get from Belvedere Gardens to the nearest parts of Innere Stadt in a few minutes. In fact, Belvedere Gardens and Innere Stadt are only separated by Schwarzenbergplatz. Depending on the particular destination in Innere Stadt, you either take Lothringerstrasse from Schwarzenbergplatz to Karlplatz (then you can go to Getreidemarkt, Museumsquartier, Maria-Thresien-Platz, and the south-western parts of Innere Stadt) or you walk up to the northern end of Schwarzenbergplatz, which is quite close to Kärntner Strasse, Stadtpark, and about 10 minutes walk from Stephansplatz. You can see the South Tower of Stephansdom behind the cranes in the top left corner of the picture.